Travel
Trending
How To Travel Abroad On A Tight Budget
It's half past two on a sweltering afternoon in the lush, rolling backcountry of Vinãles, a couple of hours west of Havana. My boyfriend and I are sitting on a bed, relishing the afternoon breeze in the 90-degree humidity, swallowing the remains of some very dry rice and beans, with the last drops of bottled water we are "allowed to drink" until nightfall.
Gone were the $2 bottles of rum, mojitos and daiquiris, dewy mangos, and fresh coconuts. Cuba was all fun and games until we blew our budget on day four of ten. After Obama lifted embargo restrictions in 2016, we rushed to Cuba, eager to experience its nostalgic charms and pristine beaches. We found that American phones, credit cards, debit cards, and banks wires still did not work on Cuban soil, meaning any money we needed for the trip had to be brought up front, in cash.
Which is how we wound up SOL in that tiny orange cottage with only 30% of our budget remaining, watching our hopes drain with the last of that morning's water. How does an OCD, perpetually over-prepared traveler end up here? It's always a few things, isn't it? Getting ripped off by the angry taxi driver with our change, indulging in 10 too many mojitos, delighting in the fact that Havana actually did have a killer food scene.
Anyone who's ever traveled on a shoestring has likely been there. But guess what, you can still cut corners, reduce costs, and make the very best out of the trip when your wallet gets scarily light.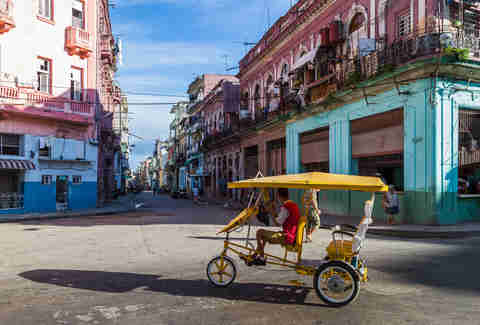 Get serious and re-crunch your numbers
After getting over the initial shock and fear that we might actually starve — or at least pass out from dehydration — we sat down and thrashed out a new budget. Here's how to break it down: 
Take inventory. Total all the cash you have left.
Set aside non-negotiable fixed costs. Things like: money for the taxi back to the airport, remaining accommodation fees, bus tickets. Put this money in an envelope and set it aside. It's off limits until you need it.
Re-budget. Divide your cash by the days you have left to get an allowance for food and shelter. (We'd lost our booze privileges. Shame.)
Plan out your remaining purchases. Too often it's the little things — a bottle of water here, a WiFi card there — that end up sinking the ship. Think ahead and plan every item you are going to need for the remainder of your trip.
We concluded we each had $11 per day for our remaining five days — basically enough to buy one meal and one liter of bottled water each. Yikes. We took a deep breath: We were safe, we had a place to sleep, and already had paid for most of our big expenses. We were in a beautiful country filled with fascinating and friendly locals to help us out. But still we had to get inventive and find cost-free ways to explore the country. 
We discovered a restaurant our first day in Vinãles with $10 lunches big enough to feed a family of four: an entire chicken, two plates of rice, a plate of veggies, a bowl of beans, and a plate of steamed yucca. We headed there midday, ate as much as we could, and took leftovers to our casa particular (local accommodations) for dinner. Bless the waitresses there — the custom of "doggie-bags" is a chiefly American one, but they managed to scrounge up a clean plastic bag for us every time.
When you see your money bleeding out, you get really good at holding onto it. Two bananas for breakfast for $2? Try four bananas for $1 and one of those nut and seed bars. That horseback ride you really wanted to take through the tobacco fields? Befriend the guide, share a cigar, and get that tour down to $5. It doesn't hurt to try to go low first — the worst someone can do is say no. 
Keep adjusting that daily budget
At the end of every day, we'd "zero-out" our account — basically check in to make sure we hadn't missed something or somehow overspent. On our third day in Vinãles, we found another restaurant that offered that same jumbo menu, but for $1 less. By eating there instead we were able to save a few extra bucks for "just in case," and even splurge on an extra bottle of water or *gasp* a daiquiri. Responsibility meets reward.
Make penny-pinching a game and celebrate the small wins
Stay positive. Finding new, clever ways to cut costs became a game — and the rewards we could indulge in (a beer here, a dessert there) felt all the more special.
Sell what you don't mind parting with
If you need to scrounge up some extra scratch, sell some of your stuff, or use it to barter and trade: American goods are a commodity. I recall a trip to Mexico when I was offered $5 for my yellow rubber Livestrong bracelet at a time when, back in the States, those $1 bracelets were all the rage. I was 12 and refused to part with it, but, ya know, your priorities tend to shift when you're surviving on rice and beans out of a bag.
If you get really desperate, try gambling for more money, a free drink, or supplies — but be cautious, as such activities are illegal in countries like Pakistan, Bangladesh, Qatar, Singapore, and parts of Europe. A safer bet is to challenge people to a friendly dance-off, or something you know you can win — a game of pool, perhaps? I once won an afternoon of free margaritas at a bar in Cambodia for beating the manager at Connect Four. Just use your best judgment and keep the stakes sane.
Traveling long-term? Earn as you go. See how you could help out a local business with its website, translate or edit menus into English, take photos for business promotions or post for them on social media. These skill sets are second nature to most of us but are invaluable to places that might be a few years behind — and can quickly translate into room and board, food, or even cash. 
Take the sloooooow bus
The slower, less convenient transport option is almost always the cheapest. On our last trip into Havana, we opted for tickets on the local bus that took five times as long as an inexpensive cab ride. Funnily enough, that bus also ran as a part of a tour system, and we ended up going into the valley to stop at all the nature and local spots we'd wanted to hit on scooters we'd had to cut from our plans — all from the comfort of an air-conditioned bus.
Kash Bhattacharya of BudgetTraveller explains how you can double your savings by taking a night train or bus. They'll be cheaper than the daytime option and save you a night's stay in a hostel. "Particularly in Europe, you'll find the night trains can be quite comfortable, [and] in countries like Argentina, the night buses often offer 180-degree reclining seats," Bhattacharya said.
Avoid this whole dang mess in the first place
I know, I know: Hindsight is 20/20. Next time just fold an extra $100 cash into a deep backpack pocket, just in case. James Feess of the travel blog The Savvy Backpackeralso recommends tightening up your initial costs by forgoing reservation websites: "You can often save a little by calling the hotel and booking directly," he says, since then, hotels don't have to pay fees to the online booking portals. Conversely, reserve your transport early, as "prices tend to rise as the departure date nears."
Theft, unfortunately, also happens to even the most seasoned travelers. Take Nora Dun, of The Professional Hobo, who had her passport stolen in Grenada, a disaster that ended up costing her upwards of $10,000. As a preventative measure to loss or theft like this, Christy Woodrow, of the travel blog Ordinary Traveler, highly recommends "keeping copies of your passport/ID, and front and back copies of your credit cards. This way if something does happen, you can easily cancel your cards and use copies of your ID to get home." Carry a backup credit or ATM card for emergencies or in case of theft — just be sure to keep it separate from your wallet. 
And when in a real pinch: Have someone send you cash via Western Union. 
Embrace a different kind of sightseeing
Looking back, we both agreed that we wouldn't have had it any other way. With no money for costly activities, we felt no pressure to sightsee. We simply enjoyed the country in a way we may not have had otherwise. We took long strolls through town and into tobacco fields, stopping to smell strange fruits and flowers, to listen to the hum of a lone tractor or horse hoofs beating down on the dirt roads. We savored every last bite of food we had — yes, even the beans and rice. We took the time to talk with locals who invited us into their homes, to share in spirits, smokes, and laughter on their back porches overlooking the valley. We ran out of money, it turned out, and traveled all the richer for it.
Anyone who's ever traveled on a shoestring has likely been there. But guess what, you can still cut corners, reduce costs, and make the very best out of the trip when your wallet gets scarily light.